TACTICAL SOLUTIONS AR-22 UPPER
---
Complete Upper Weight: 2lbs 14oz-- Receiver : 1913 Mil Spec Flat-Top Receiver Picatinny Rail-- Bolt Assembly: Heat Teated 416 Stainless Steel & Tool Steel-- Charging Handle : Tactical Charging Handle-- Handguard: Hogue® Mid-Length Free Float-- Barrel : 16.5" Length .920 Diameter 6061 T6 Aluminum 11° Target Crown Threaded ½"-28 1 in 16" Button Rifled Chrome Moly-- Magazine: 25 Round* Black Dog Magazine (*10 Round available where stat restrictions apply)-- Price: $650
FIRST IMPRESSIONS ARE THAT THIS IS A VERY SOLID MADE UPPER. THE PRICE IS A LITTLE HIGHER THAN MOST AR CONVERSIONS BUT YOU GET WHAT YOU PAY FOR.
I PUT 1000 ROUNDS THROUGH THIS UPPER THE FIRST DAY AND THE ONLY FAILURES I HAD WAS DUE TO AMMO. I PUT 4 DIFFERENT TYPES OF AMMO THROUGH IT. FEDERAL LIGHTNING, CCI MINIMAG, REMINGTON THUNDERBOLT AND FEDERAL TARGET. CCI WORKED BEST AS I EXPECTED WITH A HIGHER VELOCITY TO THROW THE BOLT BACK CONSISTANTLY.
THIS UPPER IS VERY LIGHT WEIGHT. HARDLY NOTICABLE AFTER MOUNTING IT TO A DANIEL DEFENSE LOWER WITH A MAGPUL UBR STOCK. THE BLACK DOG 25 ROUND MAGAZINE WAS VERY RELIABLE WHERE MOST 22 AR CONVERSION MAGS FALL SHORT. EXTRA MAGAZINES RUN $35 AND I HAVE FOUND THEM READILY AVAILIBLE ONLINE AND AT A FEW LOCAL RETAILERS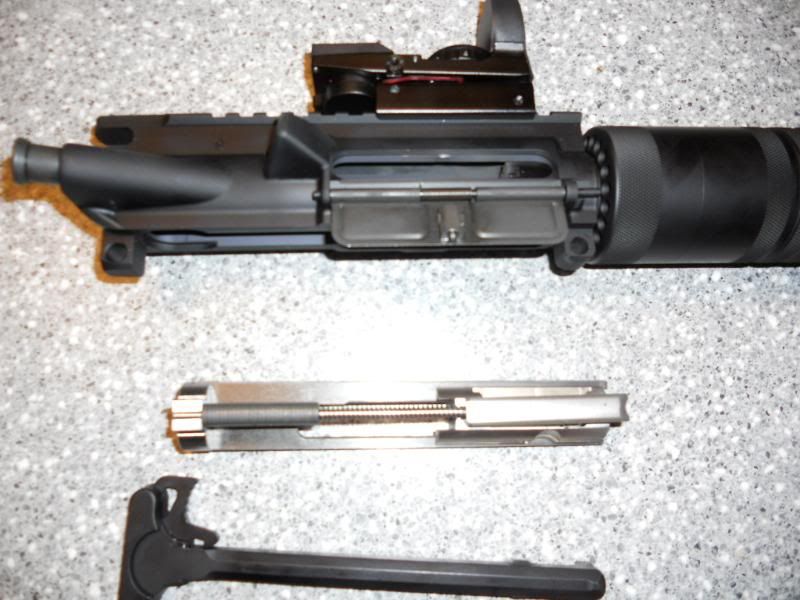 THE BOLT HAS A SPRING TO ASSIST IT BACK INTO BATTERY AND FUNCTIONS GREAT. THE EXTRACTOR HAD NO PROBLEMS SNATCHING SPENT BRASS FROM THE CHAMBER.
THE HANDGAURDS ARE VERY COMFORTABLE AND THE 16 INCH BARREL HAS AMAZING ACCURACY. I WAS ABLE TO MAKE MY FIRST 3 SIGHT IN SHOTS TOUCH AT 10 YARDS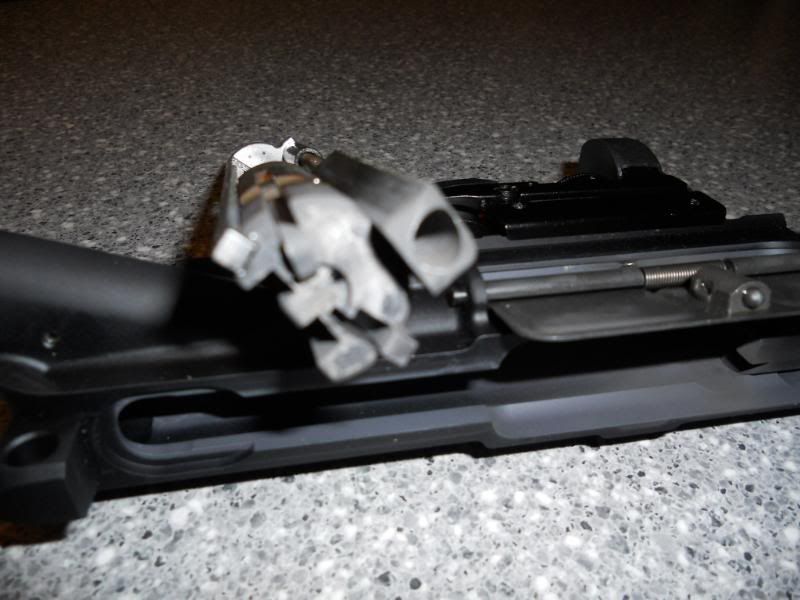 THE BARREL IS THREADED TO ALLOW FOR A SUPPRESOR AND THE THREAD PROTECTING CAP DIDNT BACK OFF ONCE TIGHTENED
I STILL HAVE A FEW TESTS TO RUN ON THIS UPPER BUT SO FAR IT IS A DEFINATE GO. THE PRICE IS A LITTLE STEEP BUT PLEASE REMEMBER THIS UPPER IS DESIGNED FOR SHOOTERS WHO PUT ALOT OF ROUNDS DOWNRANGE AND WILL PAY ITSELF OFF IN THE LONG RUN. IT IS ACCURATE, RELIABLE AND LOADS OF CHEAP FUN. THE FOLLOWING VIDEO ARE SHOT WITH A CHEAP RED DOT DDM4 LOWER WITH TIMNEY TRIGGER SHOOTING AT A NEWBOLD TARGET AT 10 YARDS.
Tactical Solutions AR-22 upper with Aimpoint Comp m4. Daniel Defense Lower with Timney Trigger, Magpul UBR stock, Magpul gripand Black Dog LLC 50 round magazine. This is a great combo!
Tactical Solutions upper 50 round dump no failures
Cheap skills drills