SCORPION KNIVES GEOFF "TANK" TODD SIGNATURE KNIFE
---
The Geoff "Tank" Todd signature knife has a feel like no other. Its superior craftsmanship and design makes it a must for special forces units all over the world. It has a razor sharp edge, double-edged and serrations half length of the blade for cutting rope.
The knife is made of French steel, British handgrips and American coating with the sheaths being made by Paul Cross, a British expert holster and sheath maker now also living in New Zealand.The blade material is supplied from Bonpertuis, a specialist French steel maker. It is 420C stainless steel with 13/14 chrome and 0.5 Molybdenum, which helps reduce rusting.
The steel is hardened to RC 56 and the blade coated with Flouralon BP5505 for increased corrosion resistance. The grips are made from a unique blend of glass filled poly and rubber with thumb groove and side ridges for extra grip.
The Todd comes in 3 different sizes 7"- $160 which is the version we are reviewing. 5"- $145 and 4"- $130. All which are underpriced in my opinion for what you get.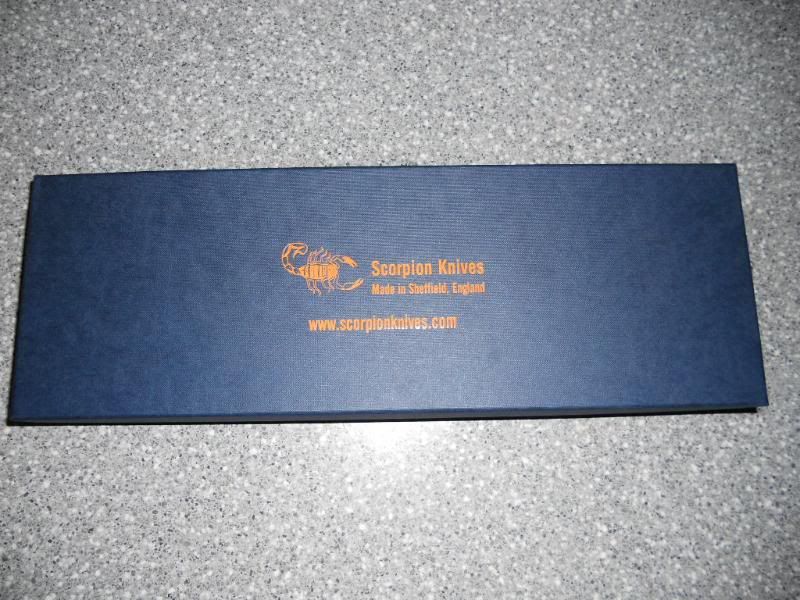 The packaging from Scorpion Knives is first class. This is very important to keep for collecting purposes. This knife wasnt made to sit in a box.
This knife is built for a soldier no doubt. Holding it in my hand brings thoughts of battles where there were no firearms just steel versus steel. This would definately be a knife to take into that type of combat situation. Very well balanced and the weight is perfect for its size. With a 7 inch blade it isnt the ideal size for a foot soldier because its going to take up some space but the 5" version would be perfect for that format. The blade is razor sharp and its finish is flawless.
Normally doing a knife review I would have slammed this knife into a piece of plywood and beat it with a mallet, but this knife has a presence about it. I dont see myself abusing this one to get my point across. It would almost be disrespectful to torture test this one.
The guys at Scorpion knives did a great job with this knife. This is a superior design forged with high quality materials making it a deadly tool in the right hands. Whether you are in the market for your next collectors piece or a combat weapon click on the link to scorpion knives at the top of the page
Whether you are in the market for your next collectors piece or a combat weapon click on the link to scorpion knives at the top of the page and see what they have to offer. you wont be disappointed