SBR
---
This is a MK18 clone or SBR which stands for Short Barrel Rifle. This one features a Noveske upper, BCG and 10.5 inch barrel and a Daniel Defense RIS rail system. The muzzle break is a Demon Tactical Break. The BUIS "back up iron sights" are a Noveske front and Matech rear and the Primary optic is a Aimpoint M68 civilian known as the COMPM4. Attached to the rail I have a SureFire railmounted weaponlight with IR filter for Night Vision operations, a Magpul AFG "angled for grip", a Gear Sector Hand Stop and Magpul rail covers.
The lower consists of a Magpul CTR mil-spec stock, a Magpul Sling mount, Magpul BAD, BAD ASS ambi safety, Demon Tactical Quick Pin, Norgon ambi-catch mag release, Magpul enhanced trigger guard, TangoDown grip, and Daniel Defense internals. The Magazine is a Tapco mag. Quite a bit of thought went into this build to get it the way I wanted it.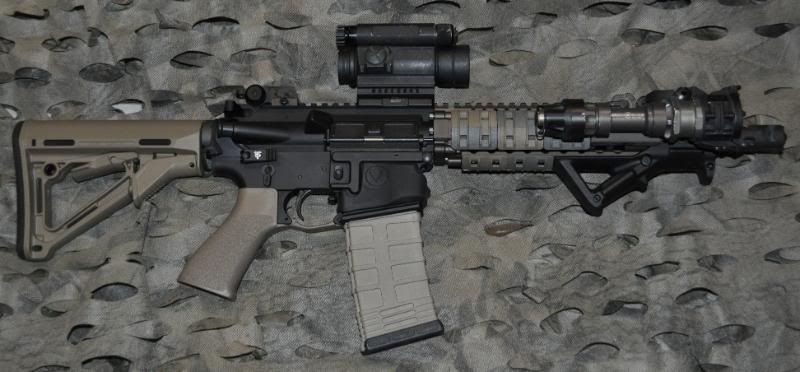 This firearm is considered a Class III firearm so make sure you send the ATF their cash with your fingerprints and get the stamp back before you attempt this kind of build. I run this weapon suppressed with a overall length of 16 inches so it is still compact for CQB operations. Enjoy!