LOWER BUILD
---
UTARMS BILLET STRIPPED LOWER RECIEVER DONATED BY UTARMS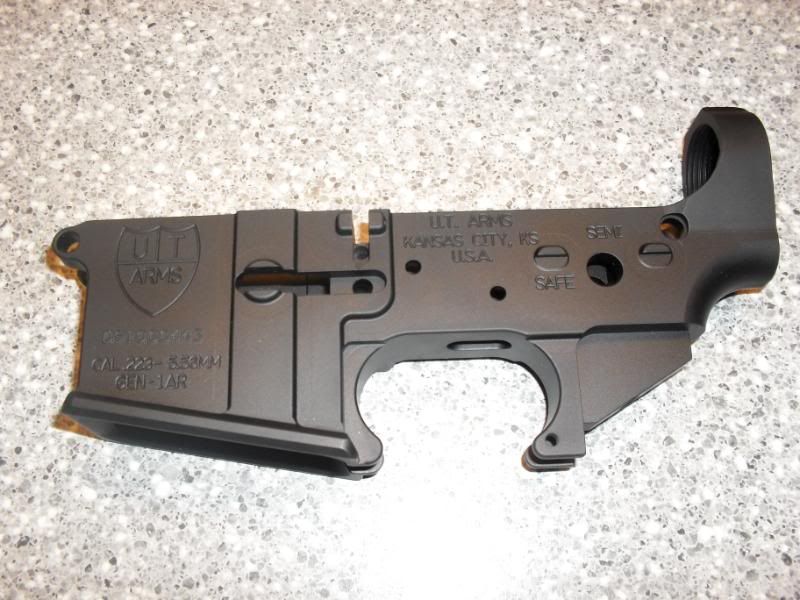 DPMS LOWER PARTS KIT "LPK" DONATED BY
TONYS GUNS AND POLICE SUPPLY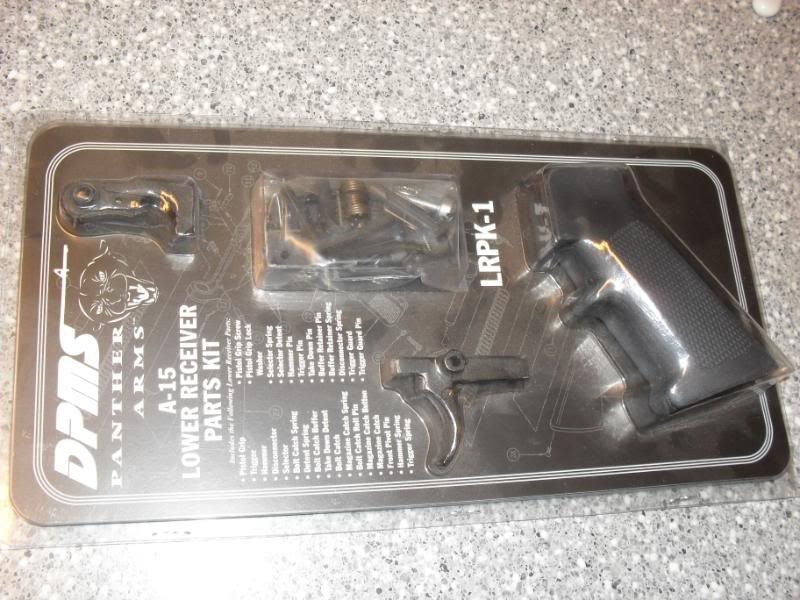 ORGANIZE ALL THE PARTS BEFORE HAND IN GROUPS WITH THEIR LIKE COMPONENTS
GO AHEAD AND INTALL SPRINGS ON THE TRIGGER COMPONENTS AND HAMMER SORT THEM WITH THEIR PINS AND THE DISCONNECTOR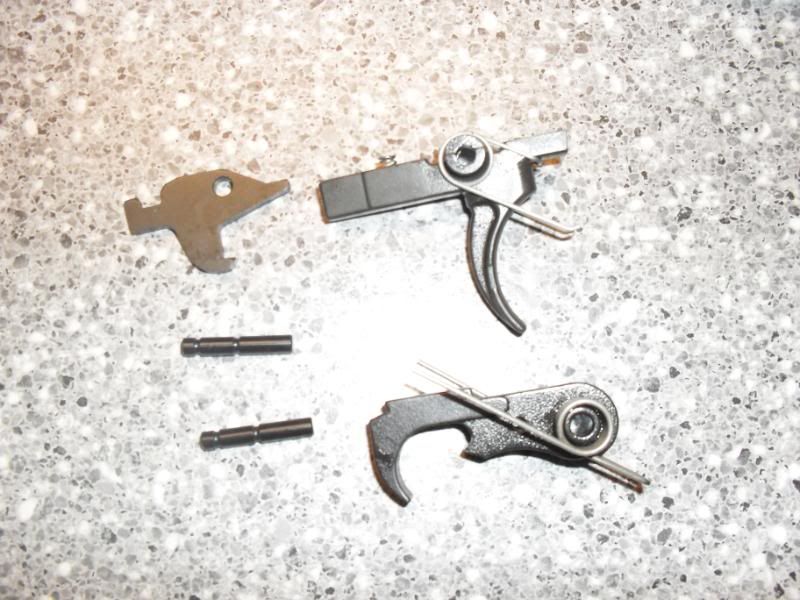 TAKEDOWN PINS, SPRINGS, DETENTS TOGETHER. BOLT CATCH, SPRING , DETENT, PIN TOGETHER. BUFFER RETAINER AND SPRING TOGETHER.
GRIP AND SCREW, TRIGGER GUARD AND PIN, SAFETY LEVER, SPRING AND DETENT TOGETHER. TANGODOWN BATTLE GRIP DONATED BY
TANGODOWN
MAGAZINE RELEASE BUTTON, MAGAZINE CATCH, AND SPRING TOGETHER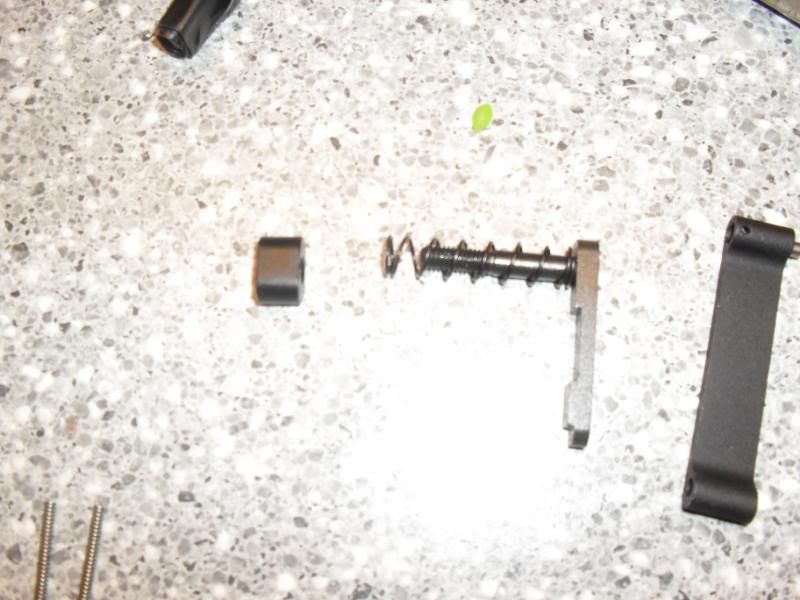 TOOLS AND A WORK PAD IS A MUST PUNCHES HAMMER AND NEEDLE NOSE CHANNEL LOCKS MAKES IT MUCH EASIER
THE BIGGEST PIN IN YOUR LPK IS FOR THE TRIGGER GUARD, LINE THE HOLES UP AND TAP IT INTO PLACE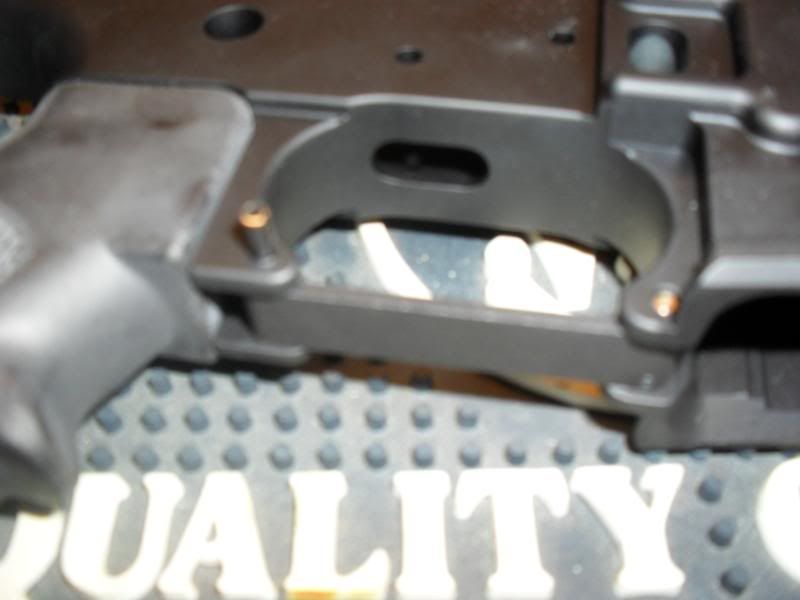 I LIKE TO STICK THE GRIP ON WHILE IM TAPPING THE PIN IN TO KEEP THE LOWER FROM TILTING POTENTIALY DAMAGING THE "EARS"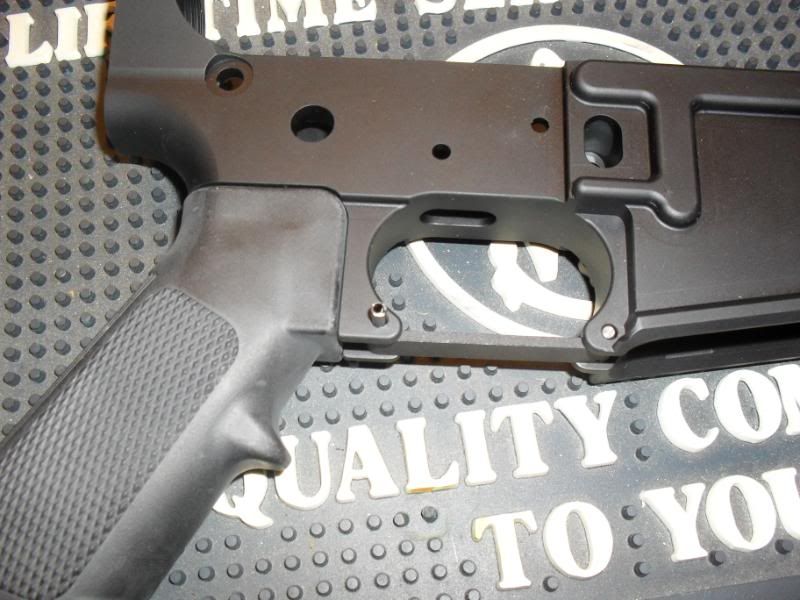 INSTALL MAG CATCH SPRING FROM THE RIGHT SIDE OF THE RECIEVER AND INSTALL MAG CATCH FROM THE LEFT SIDE, SCREW THE MAG RELEASE BUTTON ONTO THE MAG CATCH ONE FULL TURN THEN PUSH IT INTO THE MAGAZINE RELEASE HOLE ON THE RECIEVER. BUSH THE MAG RELEASE INTO THE RECIEVER AS FAR AS YOU CAN THEN SCREW THE MAG CATCH FROM THE LEFT SIDE UNTIL IT BARELY CLEARS THE BOLT RELEASE PIN HOLES THEN IT SHOULD SNAP INTO PLACE UNDER SPRING TENSION. THIS PART IS VERY EASY AND ONCE YOU GET YOUR HANDS ON ALL THE PARTS IT WILL MAKE MORE SINCE TO YOU
MAG CATCH
NEXT TAPE YOUR RECIEVER, I USE PAINTER TAPE BECAUSE IT LEAVES NO RESIDUE, TAPE THE ENDS OF SOME NEEDLE NOSE CHANNEL LOCKS AND SQUEEZE IN THE BOLT CATCH ROLL PIN JUST ENOUGH TO GET IT STARTED. THE TAPE KEEPS YOU FROM DAMAGING THE FINISH ONCE YOU START TAPING THE ROLL PIN IN.
INSTALL THE BOLT CATCH SPRING AND BUFFER IN THE HOLE IN THE RECIEVER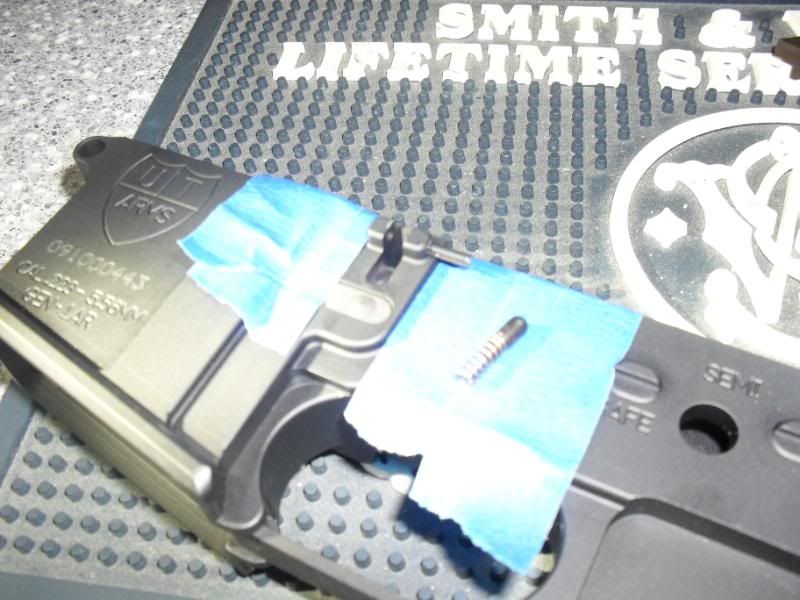 THE BOLT CATCH THEN GOES ON TOP OF THE BUFFER AND SPRING, THIS IS INDER SPRING TENSION SO YOU WILL HAVE TO DO YOUR BEST TO HOLD IT IN PLACE, LINE THE HOLES UP, AND TAP THE ROLL PIN IN. I HAVE HAD THESE GO VERY SMOOTHLY LIKE THIS ONE DID, AND I HAVE HAD THEM GO VERY HARD. JUST DEPENDS ON THE FIT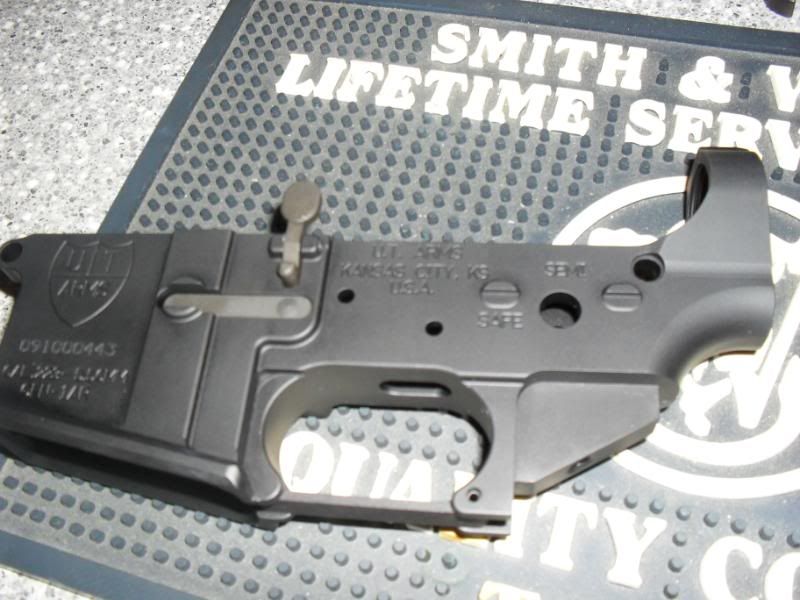 INSTALL THE FRONT PIVOT PEN, SLIDE IN THE DETENT SPRING AND DETENT, HOLD THE DETENT DOWN "UNDER SPRING TENTION". BE CAREFUL BECAUSE IF YOU SLIP THE DETENT AND SPRING ARE FLYING OUT AND GOOD LUCK FINDING THEM
NEXT INSTALL THE PIVOT PEN SLIDING THE DETENT INTO PLACE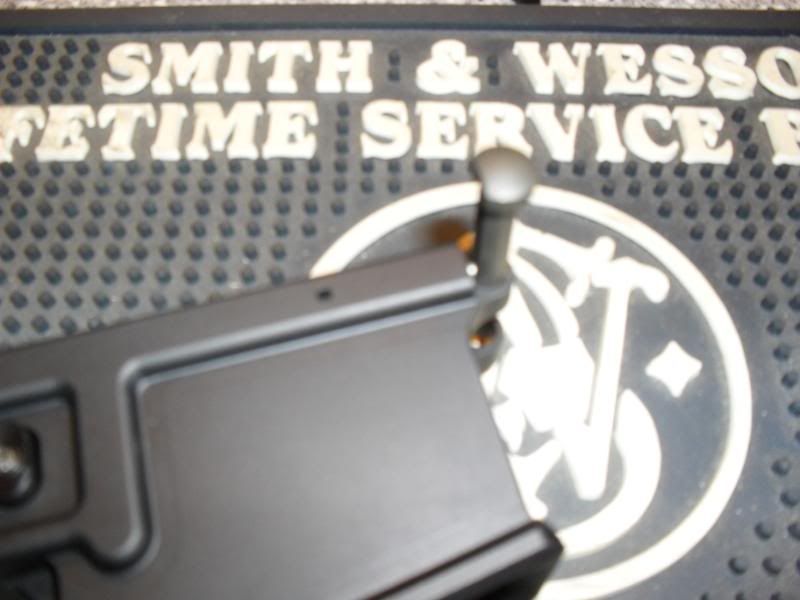 TRIGGER: FIRST INSTALL THE DISCONNECTOR SPRING INTO THE TOP OF THE TRIGGER, IF YOU GLUE IT IN IT WILL HELP WHEN TRYING TO INSTALL THE TRIGGER PIN THROUGH THE TRIGGER AND DISCONNECTOR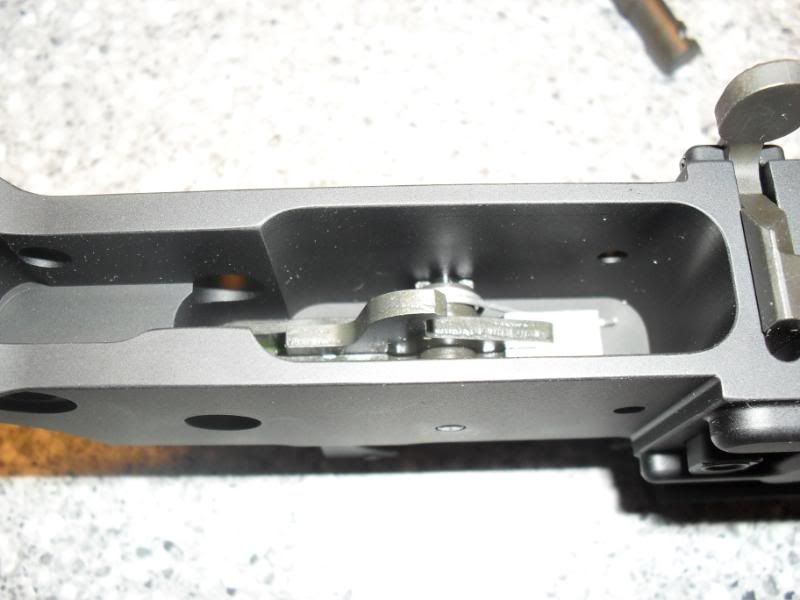 WHILE HOLDING THE TRIGGER IN PLACE FORCE THE DISCONNECTOR DOWN ON THE SPRING, LINE THE HOLES UP "TRIGGER/DISCONNECTOR/LOWER RECIEVER" THEN INSTALL THE TRIGGER PIN FROM RIGHT TO LEFT. IF YOU USE A PUNCH FIRST TO ALIGN THE HOLE IT WILL MAKE IT EASIER TO PUSH THE TRIGGER PIN THROUGH
HAMMER: COMPRESS THE SPRING LIKE IN THE PICTURES BELOW AND PUT THE HAMMER PIN THROUGH.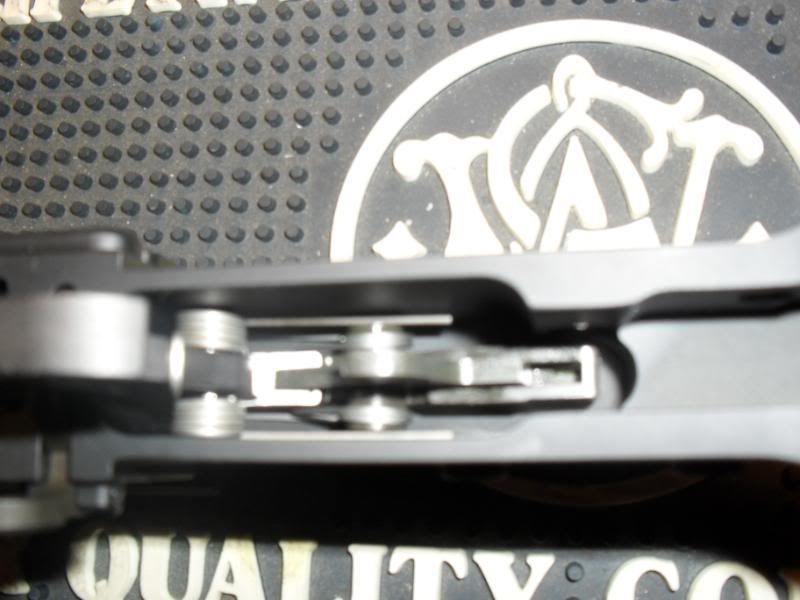 SELECTOR SWITCH: DROP THE SELECTOR LEVER INTO PLACE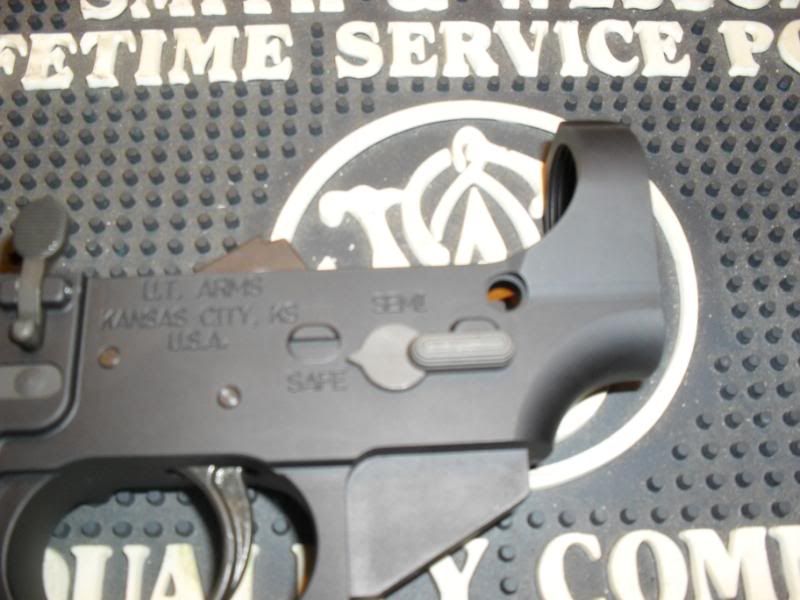 THE SELECTOR SPRING AND DETENT INSTALL IN THE OPPOSITE SIDE
DROP THE SPRING INTO THE TANGODOWN BATTLE GRIP AND INSTALL DETENT INTO THE HOLE IN THE RECIEVER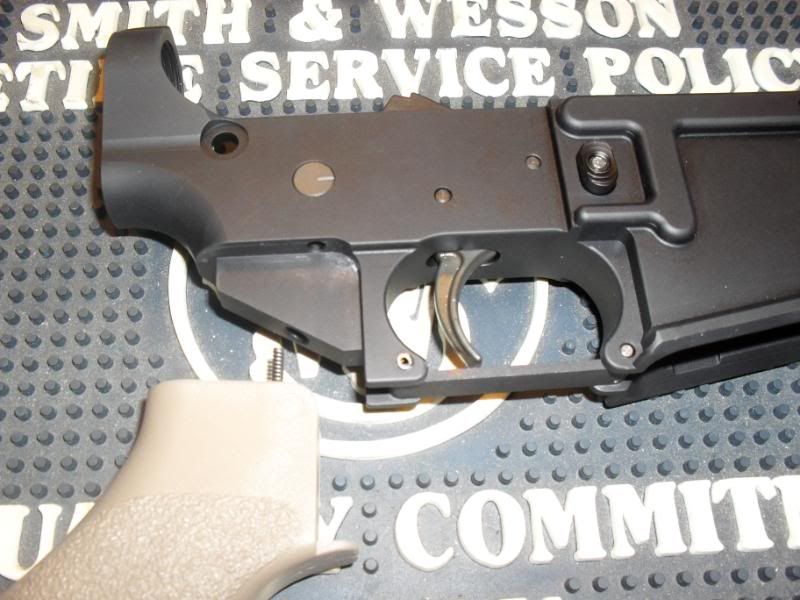 HOLD IT UPSIDE DOWN SO DETENT DOESNT FALL OUT AND PUSH THE GRIP UP FLUSH IN PLACE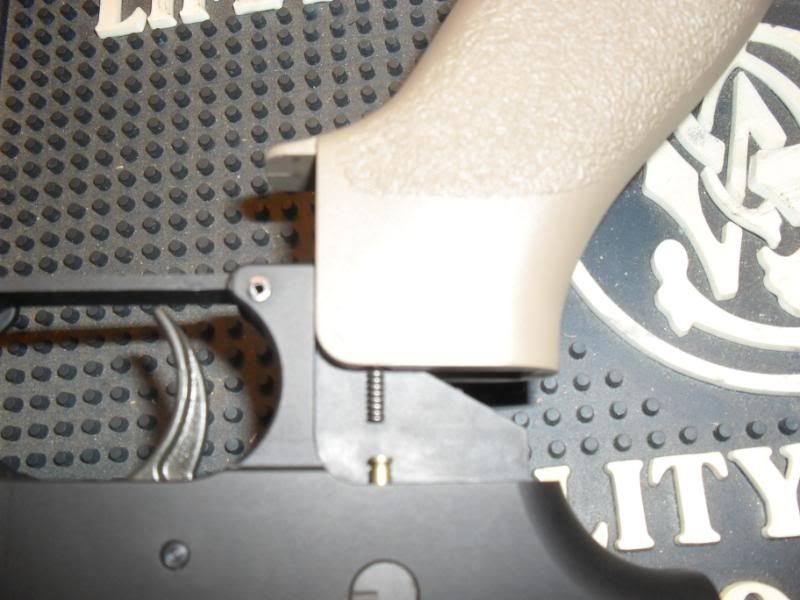 I USED THE SUPPLIED PISTOL GRIP SCREW AND LOCK WASHER TO TIGHTEN DOWN THE GRIP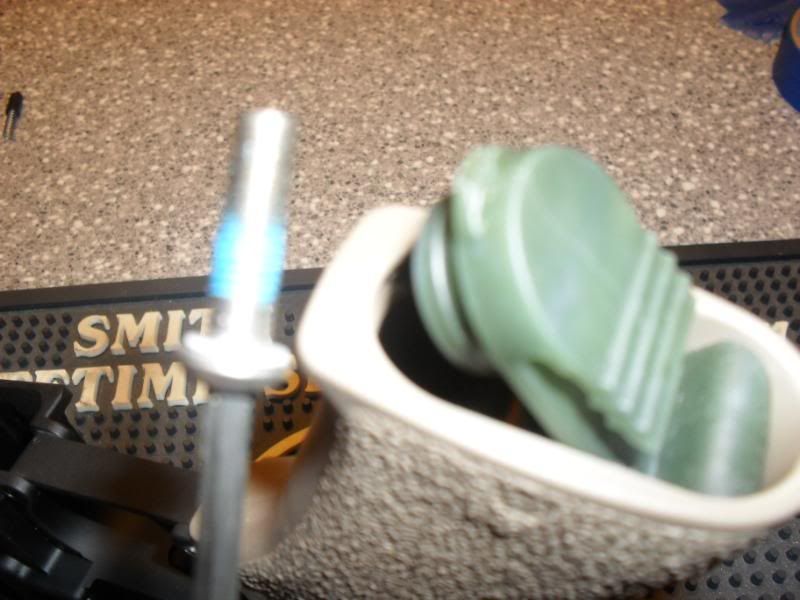 SHOULD LOOK LIKE THIS TIGHTENED DOWN AND SELECTOR LEVER SHOULD CLICK POSITIVELY INTO FIRE AND SAFE MODES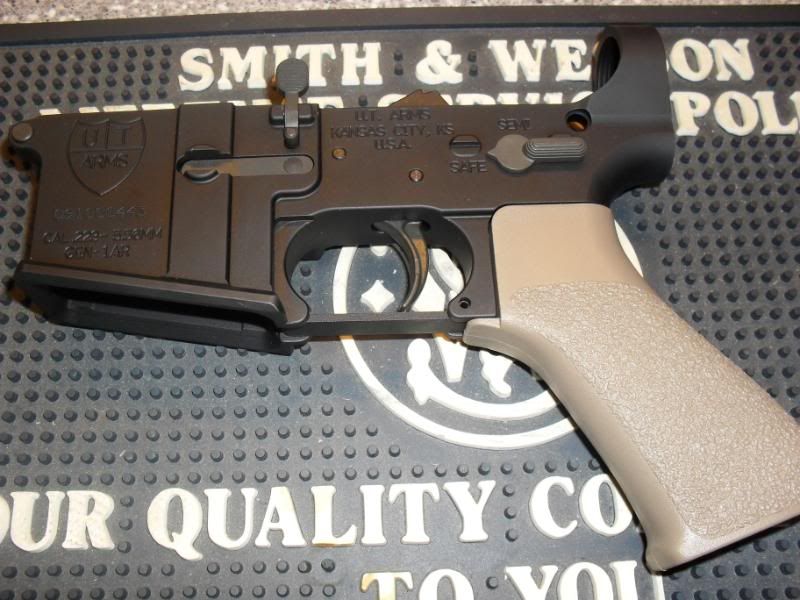 BUFFER RETAINING PIN AND SPRING: DROP THEM INTO PLACE AND SCREW IN BUFFER TUBE TO HOLD THEM INTO PLACE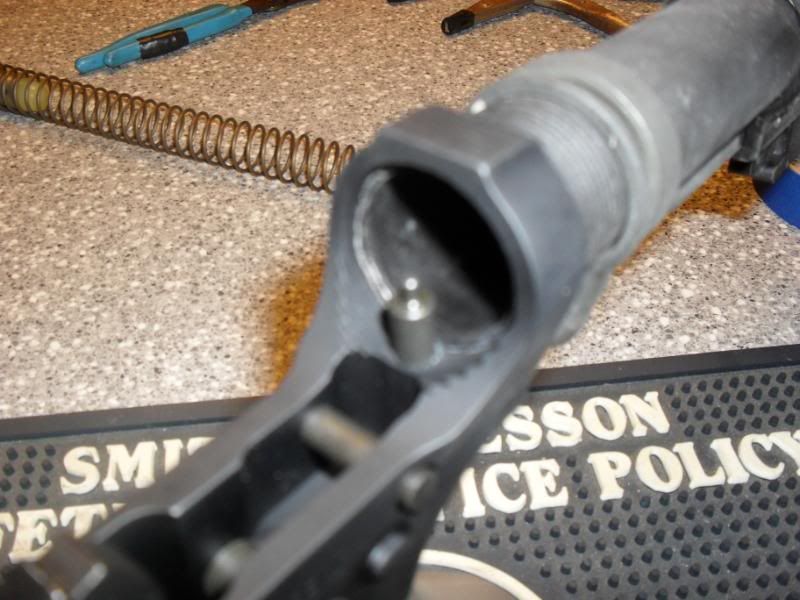 TAKEDOWN PIN, SPRING AND DETENT GO IN FROM THE REAR OF THE RECIEVER AND TIGHTEN DOWN BUFFER TUBE NUT AND PLATE TO HOLD THEM IN PLACE