DROPZONE BUTT PLATE/SNIPER POUCH
---
GUNN-FIGHTER.COM IS ONE OF THE EXCLUSIVE COMPANYS WHO GET TO REVIEW THE CUTTING EDGE EQUIPMENT PRODUCED BY DROP ZONE TACTICAL. I HIGHLY RECOMMEND CHECKING OUT THERE SITE FOR HIGH SPEED TACTICAL CLOTHING AND ACCESSORIES. KEEP AN EYE OUT FOR THERE NEW PANTS, I AM CURRENTLY REVIEWING A PAIR NOW AND LET ME TELL YOU THAT THESE PANTS ARE THE TRUTH.
THE BUTT PLATE IS A MOLLE/PALS ALICE COMPATIBLE ADAPTOR MOUNTING PLATE. IT USES DROP ZONE TACTICALS M.U.L.E.S. MK2 MOUNTING SYSTEM. THIS SYSTEM ALLOWS THE USER TO MOUNT A VARIETY OF POUCHES TO THE BUTT PLATE WHICH THEN MOUNTS TO THE BUTT STOCK OF MOST RIFLES. YOU CAN MOUNT AMMO POUCHES, RIFLE GRENADE POUCHES, CLEANING TOOLS AND KNIVES TO THE BUTT PLATE. MOUNTS ON LEFT OR RIGHT SIDE OF RIFLE AND COMES IN 3 COLORS OLIVE GREEN, BLACK, AND COYOTE.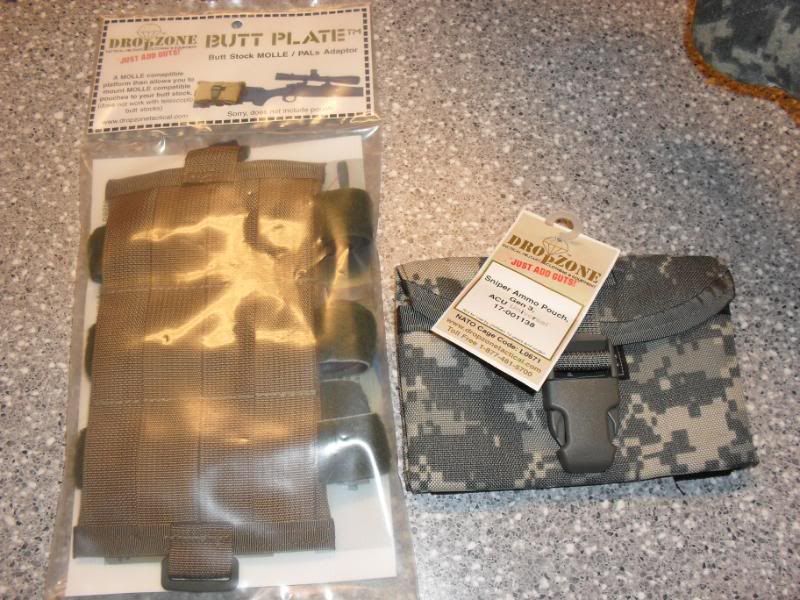 THE BUTT PLATE SENT WAS COYOTE WHILE THE SNIPER AMMO POUCH "SOLD SEPARATELY" CAME IN ACU.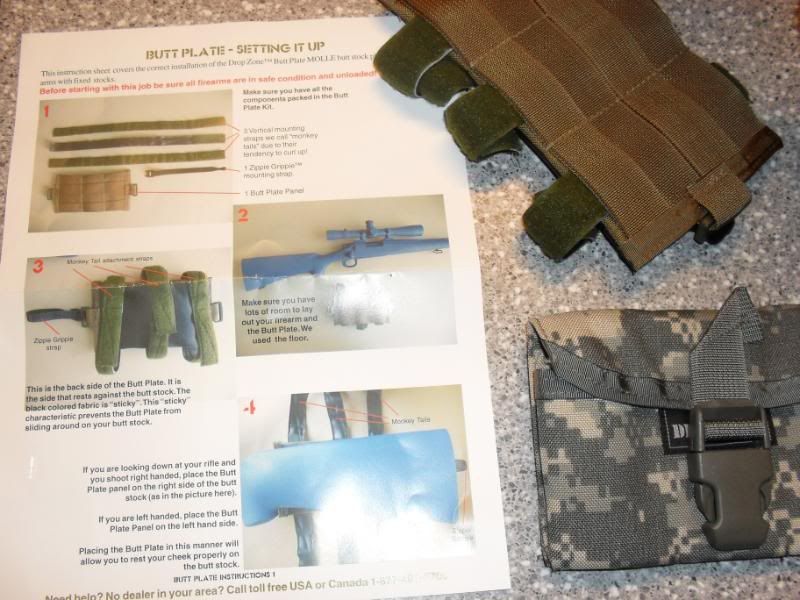 FULL PAGE COLOR INSTRUCTIONS MADE INSTALLATION A BREEZE. AND FIT VERY SECURELY
AT FIRST I THOUGHT THE STRAPS ACROSS THE TOP OF THE RIFLE WOULD BE UNCOMFORTABLE TO THE CHEEK BUT I HARDLY NOTICED THEM BEING THERE.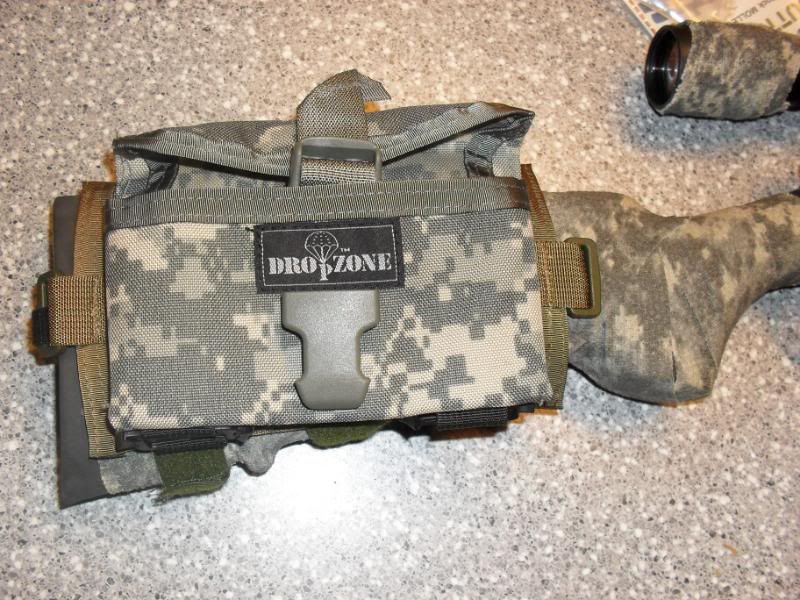 THE DROP ZONE TACTICALS SNIPER AMMO POUCH INSTALLED EASILY AND SECURELY AND CAN BE USED TO STORE MORE THAN JUST AMMO.
I HAVENT PUT THIS SYSTEM TO THE TEST YET BUT SO FAR I CAN TELL IT WILL BE MORE THAN HANDY IF HOLDS TIGHT AND DOESNT SLIP AROUND ON THE RIFLE. HUNTERS WOULD LOVE THIS TO STORE VIRTUALLY ANYTHING YOU CAN HOOK UP TO THE BUTT PLATE.