SMITH & WESSON BLACK OPS
---

Smith & Wesson Black Ops: Handle: 4.3" Aluminum-- Blade: 3.4" 4034 Stainless Steel-- Weight: 4.2 oz.-- Price: $45-- Assisted Opening
Any one who has been coming to my site alot knows that I am a fan of Taylor Brands LLC who is the producer of Schrade and Smith and Wesson knives. The price versus product comparision is what make their knives hard to beat. Well they have done it again with the S&W Black OPS.
Taylored to fit the hand the Black Ops grip is textured for a firm purchase and not overly aggressive to snag on clothiing. The assisted opening blade is smooth, sharp and has a unique contour that allows you grab flesh and cut deep.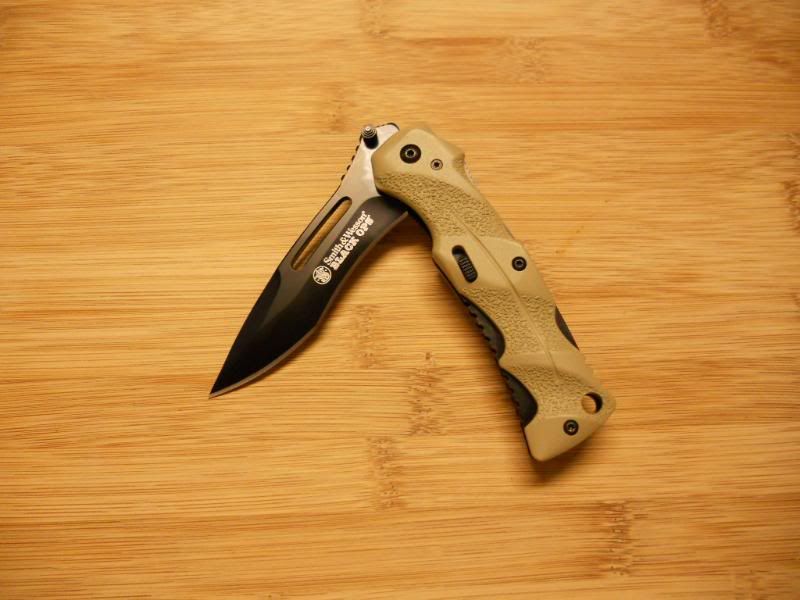 The blade lock functions properly when the blade is open or closedand is easily manipulated. Ridges have been cut in the back of the blade for thumb assist, and in the frame for better grip. The tan grip blends well most modern camo and resembles MAGPUL DE
The rugged yet sleek design and features of the S&W BLACK OPS from Taylor Brands LLC make this knife a definate GO!