ARNTZEN STEEL TARGET
---
THE FIRST 4 PICTURES ARE HOW THE TARGETS COMES SHIPPED, UPS MAN HAD A HARD TIME WITH IT IT SEEMED BUT IT FOLDS UP PRETTY FLAT AND WOULD BE EASY TO TRANSPORT TO AND FROM THE RANGE--ROUGHLY 40 POUNDS--NO SHARP EDGES--EASY SET-UP--AT FIRST I THOUGHT IT MAY LEAN A LITTLE TO FAR FORWARD BUT WITH A LITTLE ADJUSTMENT OF THE LEGS YOU CAN GET IT WHERE YOU WANT IT AND IT IS STILL VERY STABLE
1/2 x 1.5 Gr5 Hardened Steel Carriage Bolt and Flange Nut Set HOLDS IT TOGETHER
THE STAND IS VERY EASILY ADJUSTABLE
WE THREW A LITTLE WHITE PAINT ON IT AND PUT THE MAKERS NAME AT THE BOTTOM TO HELP THE READER DIFFERENTIATE BETWEEN THE TARGETS WHEN WE DO MULTIPLE TARGET TESTS ON VIDEO. SO FAR I CAN SEE THIS BEING A GOOD TARGET FOR TRANSPORT BACK AND FORTH TO THE RANGE IF YOU HAVE LIMITED SPACE OR NOT FOND OF LUGGING HUGE PEICES OF STEEL AROUND,
PUT THE ARNTZEN SILHOUETTE TO THE TEST TODAY AND I HAVE TO SAY IT HELD UP WELL.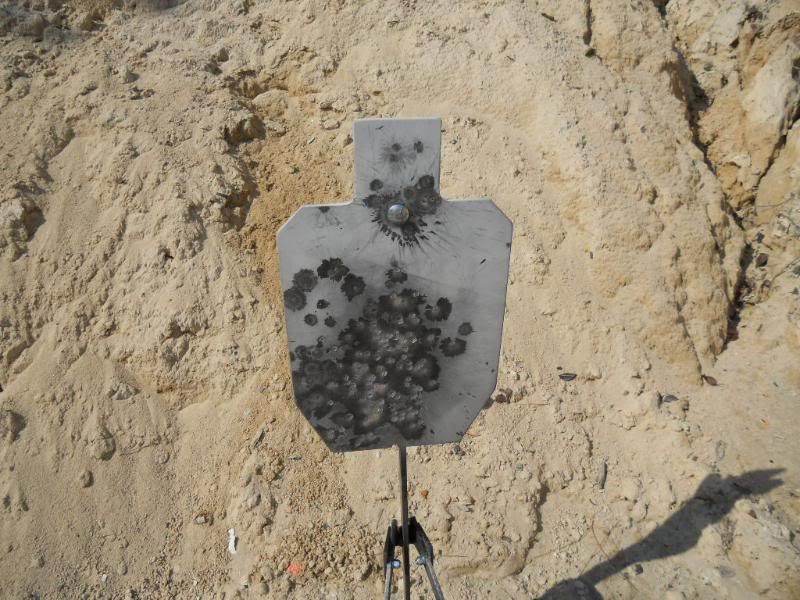 WE TESTED .22 CAL .223 9MM AND 7.62X39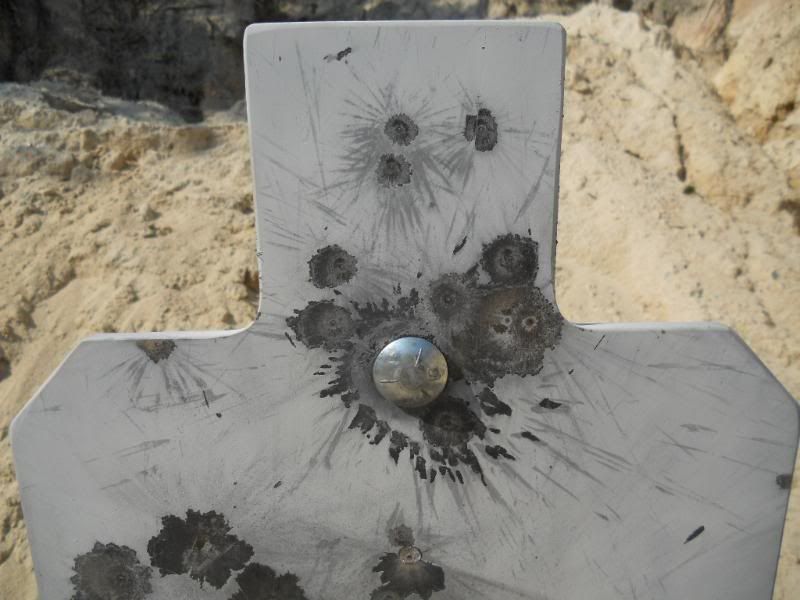 SHOTS DIRECTLY ON THE BOLT THAT HOLDS THIS TARGET TO THE STAND. DIDNT HURT IT AT ALL.
THIS TARGET AT THIS PRICE IS DEFINATELY A GO, WE MANAGED TO CHIP THE CORNER AND LOSSEN THE BOLT WHICH WAS EASILY TIGHTENED BACK UP WITH A 3/4 WRENCH.
IN CONCLUSION I HAVE TO SAY THAT THIS TARGET SYSTEM IS DEFINATELY A GO. WHEN YOU FACTOR IN PORTABILITY, DURABILITY AND PRICE I THINK YOU CANT GO WRONG IF YOU ARE IN THE MARKET FOR A PORTABLE SILHOUETTE. I HAVE REPAINTED THIS TARGET ALREADY AND ITS READY FOR ITS NEXT TRIP TO THE RANGE. I WANT TO THAT THE GUYS AT ARNTZEN TARGETS FOR LETTING ME REVIEW THIER TARGET AND HOPEFULLY WE CAN DO MORE REVIEWS OF THEIR PRODUCTS. I HIGHLY SUGGEST LOOKING AT THIER WEBSITE, THEY MAKE MANY DIFFERENT STYLE TARGETS TO SUIT ANY SHOOTERS NEEDS.