ARMY 10 OR 12
---

WHEN I CONTACTED RUSSEL TAYLOR AT TAYLOR BRAND KNIVES AND TOLD HIM I WANTED TO DO A REVIEW ON ONE OF HIS KNIVES HE DIDNT HESITATE AND I RECIEVED THE KNIFE AND A COMPLIMENTORY PEN TO GO ALONG. THE REASON THE HEADLINE STATES ARMY 10 0R 12 IS BECAUSE IF YOU GO TO THEIR SITE THE ARMY12 IS TANTO BLADED BUT THE KNIFE I RECIEVED DOESNT HAVE THE TANTO BLADE BUT HAS ARMY 12 ON THE BLADE. REGARDLESS HERE ARE THE SPECS: HANDLE: KRATON--BLADE: 5.3"--HANDLE: 5.1"--STEEL: 1070 HIGH CARBON STEEL--WEIGHT: 9.9 OZ.--SHEALTH: NYLON WITH VELCO ADJUSTMENTS AND PLASTIC INSERT.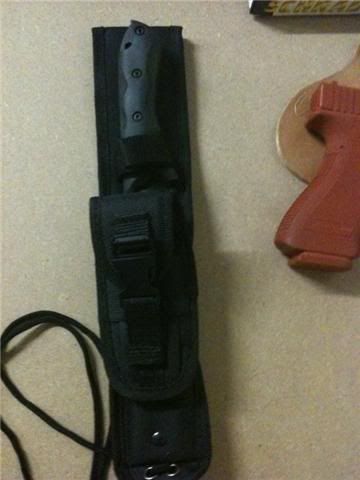 I TOOK NO TIME PUTTING THIS KNIFE THROUGH THE RINGER, FIRST OFF I SLAMED THE 1/4" THICK BLADE INTO A PIECE OF 3/4" PLYWOOD ABOUT A 1/2". THIS DIDNT SATISFY MY NEED FOR DESTRUCTION SO USED A RUBBER MALLET AND BEAT THE TIP OF THE BLADE WHILE HOLDING THE HANDLE ROUGLY 4 INCHES SLPITTING THE WOOD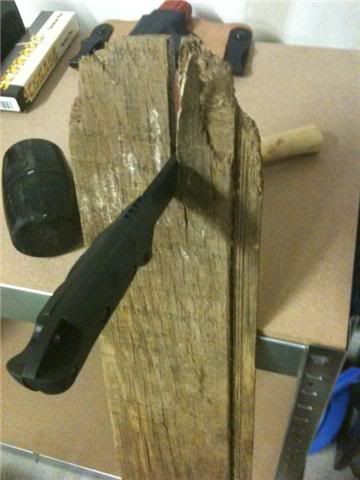 LOOK AT THE SMOOTH CUT THROUGH THE PLYWOOD
NEXT USING ONLY HAND FORCE I CUT THROUGH SOME WOOD "AND STAPLES" IN A SCAPE TEST.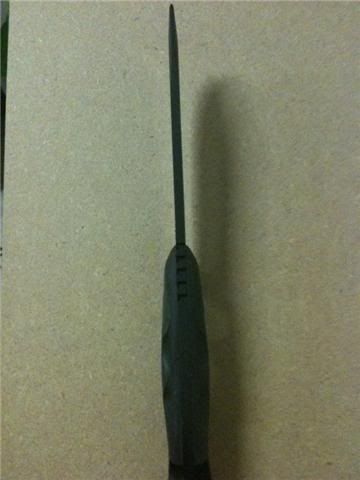 AFTER THAT THE FINISH WAS DAMAGED AND A SMALL NICK IN THE BLADE. BUT IT STILL CUT THROUGH ROPE WITH ONE TRY LIKE BUTTER
BEWARE! TREES WERE HARMED IN MAKING THIS REVIEW, I DECIDED TO CHOP A 1" LIMB OUT OF A TREE AND 4 OR 5 HITS LATER I HAD IT, THE WEIGHT IS REALLY NICE FOR CHOPPING
THE BUTT END OF THE KNIFE IS A VERY USEFUL BLUNT FORCE OBJECT
WE THREW THE KNIFE AT CLOSE RANGE AND WAS ABLE TO PENETRATE ROUGHLY 1" INTO THE TREE WITH NOT MUCH FORCE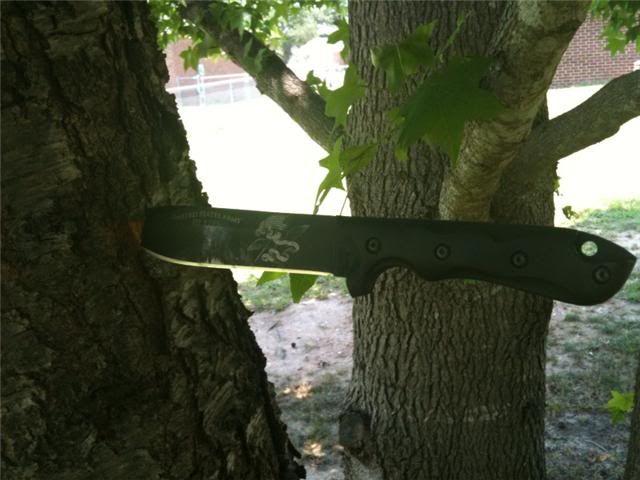 IM PRETTY SURE THAT THIS KNIFE WAS INTENDED TO BE A COLLECTOR BUT I TELL YOU THAT IT HAS STOOD UP TO EVERYTHING WE THREW AT IT BARRING SHOOTING AT IT.........HUMMM
WITH A PRICE OF $50, THIS KNIFE IS DEFINATELY A "GO". ITS WELL MADE, HOLDS A EDGE, GOOD WEIGHT AND BALANCE AND LOOKS COOL. ITS A LITTLE TOO BIG FOR REGULAR OPERATIONS, AND THE SHEATH IS EVEN BIGGER WOULD BE THE ONLY DOWNFALLS. I ALMOST HATE I MESSED THE FINISH UP....LETS SEE WHAT A BULLET WILL DO TO IT NEXT AND A LITTLE HOME MADE BALLISTICS GEL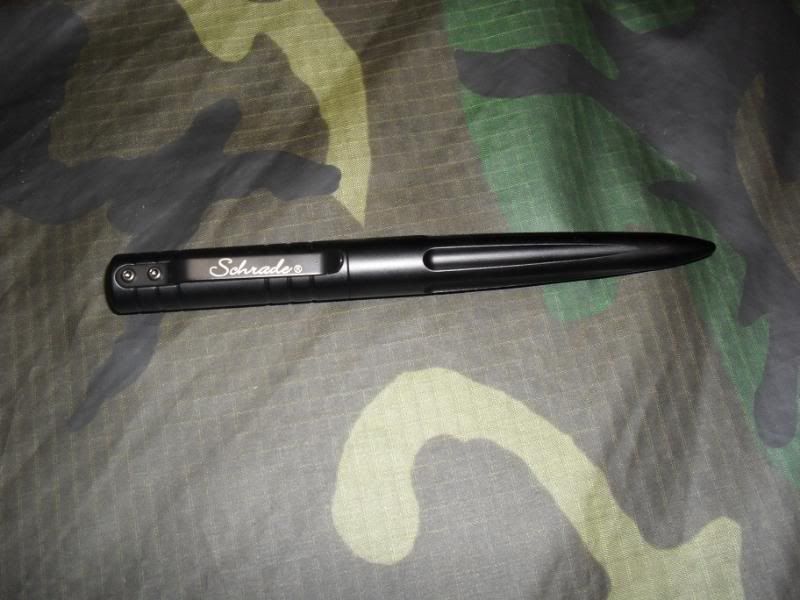 THE TACTICAL PEN WAS A AWESOME GIFT AND IM SURE I CAN DO SOME DAMAGE WITH THIS THING.
RIDDLED WITH AK-47 SCRAPNEL AND SHOT MULTIPLE TIMES, THE ARMY 12 STAYED ARMY STRONG. WE EVEN TRIED TO USE IT AS A PRY TOOL TO SEE IF WOULD BEND AT THE WEAK POINT AND IT HELD. WITH A CHIP OUT OF THE BLADE THIS KNIFE IS STILL AS DEADLY AND DURABLE AS IT WAS WHEN WE RECIEVED IT. HATS OFF THE TAYLOR BRAND LLC FOR MAKING A GREAT PRODUCT