CROSS BREED HOLSTERS SUPERTUCK DELUXE
---
SPECS: CROSS BREED SUPERTUCK DELUXE HOLSTER--RIGHT HAND--NATURAL HORSEHIDE--GLOCK SMALL FRAME--STEEL CLIPS--3/4 LENGTH FULL SIGHT CHANNEL FOR CLEARANCE WITH ALL FRONT SIGHTS--STEEL MOUNTING HARDWARE--MOUNTING SPACERS BEHIND CLIPS FOR EASIER "TUCKING"
UPON OPENING THIS HOLSTER I WASNT SURPRISED AT THE CRAFTSMANSHIP OF THE HOLSTER, I KNOW A GUNSMITH WHO WEARS ONE AND I HAVE A BUDDY WHO HAS ONE BUT DOESNT CARRY, BUT LIKES TO COLLECT. EVERYTHING WAS SOLID, CLIPS WERENT LOOSE, LEATHER SMOOTH, ROUGHLY 1/4"? THICK WITH A SMALL CROSS BREED LOGO. EVERYTHING GOOD SO FAR. IM DOING A 1 WEEK TEST AND ILL KEEP YOU GUYS UPDATED DAILY OR AT LEAST EVERY FEW DAYS UNLESS THERE ARE DRASTIC UPDATES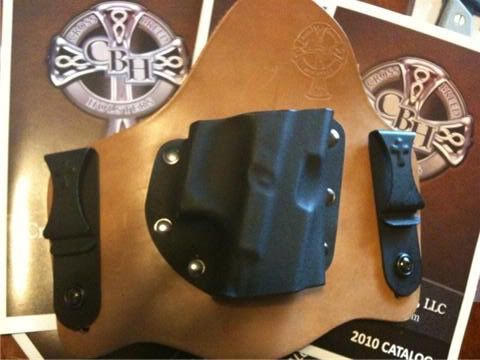 DAY 1: WORE THE HOLSTER ALL DAY AND FEELS GREAT YOU CAN TELL BY THE PICTURE THAT IT IS STARTING TO FORM TO MY BODY. I KNEW IT WAS THERE BUT DIDNT PINCH DIG OR HURT MY SIDE AT ALL, COMFORTABLE WHEN SITTING, I WEAR UNDER ARMOUR TIGHT TEES TUCKED IN AND THE RIVETS DIDNT SNAG. LEATHER ON INSIDE ROUGHER THAN OUTSIDE SO IT HOLDS TO YOUR BODY. WHEN RELIEVING MYSELF IN THE LITTLE BOYS ROOM, THE HOLSTER HELD MY BELT IN PLACE AND DIDNT TRY TO FALL TO THE FLOOR LIKE SOME HOLSTERS WILL. OVERALL DAY 1 IM PLEASED

THE CROSS BREED HOLSTER ALSO WORKS WITH ADVANTAGE TACTICAL SIGHTS. THESE SIGHTS ARE VERY TALL. MORE
FOR A HOLSTER IN THIS PRICE RANGE FOR CONCEALLED CARRY I HONESTLY DONT THINK YOU CAN BEAT IT. IT IS VERY COMFORTABLE AND DIDNT RIDE UP AND STAYED WHERE I PUT IT FOR THE ENTIRE WEEK I TESTED IT. I THINK I HAVE FOUND MY NEW CONCEALLED CARRY HOLSTER. VERY SOLID AND CONFORMS TO YOUR BODY QUICKLY. YOU DONT NEED A BELT AND IT STAS PUT ALSO. I WORE IT WITH SWEAT PANTS OUT A FEW TIMES AND HAD NO TROUBLE WITH IT TRYING TO TIP OUT OF MY PANTS. IT IS A "GO". IF YOU ARE LIKE ME AND HAVE A BOX FULL OF HOLSTERS, SELL THEM AND BUY A CROSS BREED. I HAVE GOTTEN ALOT OF EMAILS ABOUT THE OWB CROSS BREEDS AND I WILL SEE IF I CAN GET ONE FROM CROSS BREED FOR REVIEW. THANKS TO MARK AND TRENT AT CROSS BREED HOLSTERS FOR MAKING THIS REVIEW HAPPEN.
glock17
HARDLY ANY "PRINTING" EVEN WITH ONLY A T-SHIRT ON